Hello and Welcome!
Valley of Peace Lutheran Church welcomes all people to share in the reconciling love of Jesus Christ. We invite you to use this site to explore and learn a little bit about Valley of Peace.
Then stop by…no reservations required!
We look forward to connecting with you and we hope to see you soon. All are welcome…no exceptions! See you Sunday for worship at 10:15 a.m.!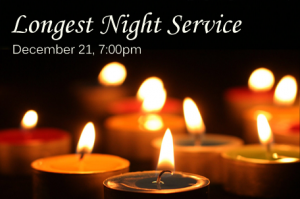 Please join us for this peaceful service on what is the longest night of the year. We'll sing, listen to scripture and just be present with each other. This could be especially meaningful for people who are mourning a loved one or feeling overwhelmed by all the activities of this time of year.