Hello and Welcome
Valley of Peace Lutheran Church welcomes all people to share in the reconciling love of Jesus Christ. We invite you to use this site to explore and learn a little bit about Valley of Peace.
Then stop by.
We look forward to connecting with you and we hope to see you soon.
Habitat for Humanity
Valley of Peace recently took a week to help build a brand new house for Habitat for Humanity. We even managed to exceed or goal of raising $1000 for the project!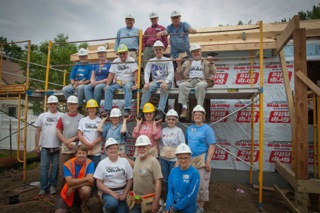 Members of Valley of Peace and Golden Valley Lutheran hard at work. 
All God's Children Opening
Now enrolling four year olds for preschool! All God's Children Learning Center offers Christian early childhood education, with excellent preparation for Kindergarten and a warm, nurturing atmosphere.  Check out our website or call 763-588-5437 for more information.