Hello and Welcome
Valley of Peace Lutheran Church welcomes all people to share in the reconciling love of Jesus Christ. We invite you to use this site to explore and learn a little bit about Valley of Peace.
Then stop by.
We look forward to connecting with you and we hope to see you soon.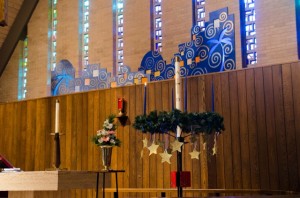 Advent at Valley of Peace
This Friday, December 19 at 7:00pm, we'll hold our Longest Night Service. The Christmas season isn't full of laughter and celebration for everyone. All are welcome to come for comfort and support in what might be a time of sorrow, loneliness, or pain. Come if you simply want a time of restfulness and peace in the midst of what can be a chaotic and busy time of year. It will also be a chance to find solemn joy in the birth of our Savior instead of getting overwhelmed by lists, errands, and events.
And make sure to head to Valley of Peace on Christmas Eve (December 24, of course) for worship as well. This year there will be two services: one at 4:00pm and one at 10:00pm. The earlier service is a bit earlier than in past years, and this is the first time in a very long while that there will be a candlelight service in the evening. All are welcome!