Faith Formation: Youth and Adult
Mission statement  
The mission of the Christian Education Committee is to develop, promote, and conduct the teaching and educational life of the congregation. It embraces a variety of educational methods to bring the ministry of the Gospel to the children, youth and adults of our congregation.
Sundays 
Adult Education: The ELCA statement, "Our Calling in Education," expresses the idea that God calls us to "educate people in the Christian faith for their vocation and to strive with others to ensure that all have access to high-quality education that develops personal gifts and abilities and serves the common good." This calling is rooted in a Lutheran legacy that values education for all people in both church and society. At Valley of Peace, that means faith formation does not end at 12th grade. We provide an opportunity for adult education and community. Join us Sunday mornings in the Fireside Room from 9-10 am for Adult education forum
Youth Forum: On Sunday mornings, our middle school and high school youth come together following worship for Youth Forum Brunch from 11:45 am – 12:30 pm approximately twice a month. This time of fellowship is designed to be a safe and welcoming space for youth to talk openly about the previous or upcoming week, dive into the daily text, and explore where they see God's work in their lives.
Wednesdays  6:30 pm – 7:30 pm
Confirmation: Our Middle School Faith Formation (6th – 8th Grade) youth gather together two Wednesdays a month from 6:30-7:30 pm. The first Wednesday every month is dedicated to service opportunities and fun with our Wildfire partners and the third Wednesday of every month for our confirmation mentor tables.
1st Wednesday of every month – Confirmation Wildfire Event – 6:30 pm – 7:30 pm (Location Varies)
3rd Wednesday of every month – Mentor Tables Small Groups – 6:30 pm – 7:30 pm (VoP Fellowship Hall)
Youth Group Health and Permission Form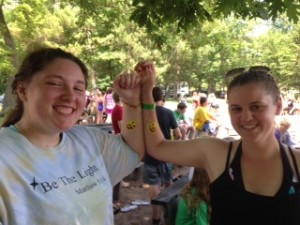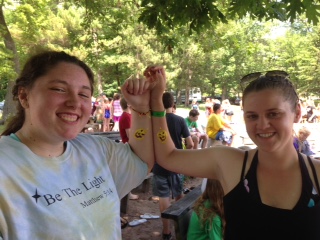 In addition to Wednesday night activities, the youth group also participates in social ministry, focusing on maintaining a community of believers in continual support of one another. We attend events like the National Youth Gathering, sport outings, music and art festivals, and hold lock-ins at the church every semester. You do not have to be a member of Valley of Peace to participate in youth group activities. In fact, new friends are always welcome!
Camp Opportunities: Valley of Peace has a strong partnership with Camp Wapogassett in Amery, WI. Every summer children grades 2-12 have the opportunity to learn more about God through word, friends, and nature. TIM Team is a leadership development opportunity for Senior High youth. TIM teamers commit to one year of service as leaders in their home congregations working primarily with younger youth. TIM Teamers will spend time at both Ox Lake and Camp Wapo during the 6 day experience.
VBS Youth Volunteer Registration 2017
Seasonal Resources and Devotions
Valley of Peace believes that the majority of lasting faith formation happens in the home. That is why we provide a seasonal resource guide for families to use at home with their children and youth. These guides focus on the church seasons (Advent and Lent) and include family devotions and prayers, stories, film and music suggestions, family service opportunities, and parenting articles. These guides are designed for families with children ages 3 – 12th grade.