Worship
Worship brings together the Valley of Peace congregation, visitors and the community for renewal in faith, strength, mission and purpose, by hearing the Word of God in Bible reading and preaching, receiving the sacraments of Baptism and Holy Communion, and rejoicing in the gifts given by our Triune God. We welcome children to all of our worship services and include them by offering quiet toys and books, a Children's sermon, opportunities to serve and a place to wiggle if it is one of those days.
We worship each Sunday at 10:15 a.m. during the school year and at 9:30 a.m. Memorial Day through Labor Day weekends.  We also gather for worship on Wednesday evenings during Lent (the six weeks leading up to Easter.)
Members participate in worship by assisting with communion, reading the Bible passages for the day, preparing the altar (table) for communion, greeting and ushering.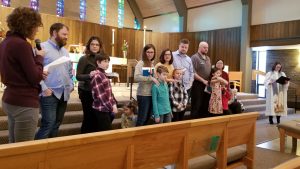 ~Our third graders receiving their Bibles!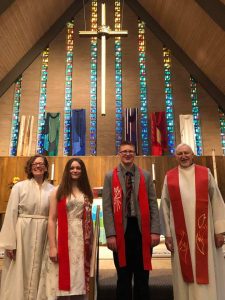 ~Confirmation 2019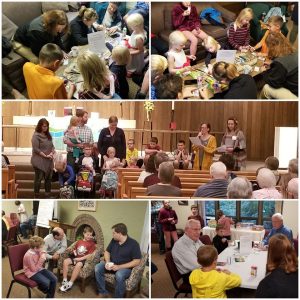 ~Blessing of the Backpacks as our Kindergartners began school!
Music at Valley of Peace
Singing in choirs has always been part of the Lutheran tradition and we start with vocal music for our Sunday school children during 9:00 a.m. Sunday school each week.  The children sing in worship several times a year.     The Chancel (adult) Choir, rehearses on Wednesdays at 7:30 pm and sings most Sundays.
The Joyful Noise band welcomes all instruments, all ages and all abilities and rehearses the 2nd and 4th Sundays after worship. Valley Carillon Handbell choir rehearses Wednesdays at 6:30 pm. If you are interested in participating in or simply trying out one of the music ensembles, please contact Paul Olson or the church office at 763-588-4611.
Categories