Music Staff
Valley of Peace is privileged to have an exceptional staff of professional musicians. Together, they provide the highest quality and variety of music for the worship of the congregation. Because of the consistent quality of their musical offerings, you can, with confidence, invite a friend to worship on any Sunday and know they will be enriched and inspired. They lead musical groups of all ages, including: children, youth and adults; as well as a bell choir and instrumental ensemble.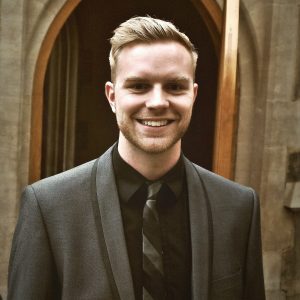 Zack Carlson, Director of Music
Zack grew up in rural northwestern Minnesota and graduated from the University of Minnesota Duluth with a B.M. in Vocal Music Education. He is entering his sixth year of teaching and has taught grades 6-12 in differing capacities in Iowa and Minnesota. He is a lifelong church musician and has served congregations in multiple roles for nearly ten years. Zack is currently the high school vocal music director at Buffalo High School. He is also enrolled in a summer graduate program at Michigan State University where he is pursuing a M.M. in Music Education. Zack lives in New Hope and sings professionally in The Singers-Minnesota Choral Artists.
Debra K. Teske, Organist and Children's Choir Director
For the last 20+ years, Debby has been joyfully making music at Valley of Peace. Musical experiences during her life have included:  teaching music in the public schools, directing children's choirs, pit orchestras, and concert and marching bands, playing in brass groups, ringing bells and singing in various choirs,and playing piano and organ for secular and sacred events in many settings. A love of early music resulted in singing with an early music group for over fifteen years. Debby worked for the State of Minnesota, Emergency Medical Services Regulatory Board for over 20 years when she retired in 2014. Since retiring, Debby works part-time at Thrivent Financial.
Music staff can be reached through Sally Daniels Herron, Parish Secretary at VOP 763-588-4611.