Music Staff
Valley of Peace is privileged to have an exceptional staff of professional musicians. Together, they provide the highest quality and variety of music for the worship of the congregation. Because of the consistent quality of their musical offerings, you can, with confidence, invite a friend to worship on any Sunday and know they will be enriched and inspired. They lead musical groups of all ages, including: children, youth and adults; as well as a bell choir and instrumental ensemble.
Paul D. Olson, Music Director
Paul has been serving Valley of Peace as music director for over fifteen years. Prior to coming to Valley of Peace he spent seven years as the Music Associate at Central Lutheran Church in Minneapolis and ten years as soloist and section leader. He has also served as a professional singer for the Bach Society of Minnesota, Temple Israel, and done freelance singing around the region. When not at Valley of Peace, Paul is the Director of Development for The Schubert Club. pdolson.ps@gmail.com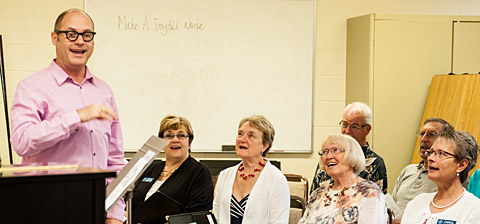 Debra K. Teske, Organist
For the last fifteen years, Debby has been joyfully making music at Valley of Peace. Musical experiences during her life have included:  teaching music in the public schools, directing children's choirs, pit orchestras, and concert and marching bands, playing in brass groups, ringing bells and singing in various choirs,and playing piano and organ for secular and sacred events in many settings. A love of early music resulted in singing with an early music group for over fifteen years. Debby worked for the State of Minnesota, Emergency Medical Services Regulatory Board for over 20 years when she retired in 2014. Since retiring, Debby works part-time at Thrivent Financial.
Emilie Moravec, Director of Music and Arts for Family Faith Formation
During the week Emilie works at Park Square Theatre in St. Paul, MN as the Education Sales and Services Manager. Emilie graduated from Augsburg College in 2007 with a degree in Social Work and completed her Masters Degree in Theology and the Arts from United Theological Seminary in 2010. She is happy to work with her husband, Adrian, leading children's music and art programming at Valley of Peace.
Music staff can be reached through Joan Hilden, Parish Secretary at VOP 763-588-4611, ext 10.