Faith Formation: Birth – 5th Grade
Mission statement
The mission of the Christian Education Committee is to develop, promote, and conduct the teaching and educational life of the congregation. It embraces a variety of educational methods to bring the ministry of the Gospel to the children, youth and adults of our congregation.
Birth – Pre-K
Helping build community and bolster faith formation in for our young families, Valley of Peace embraces our youngest children and their families. We encourage young families to participate in worship, to build relationships, and to deepen their faith through adult interactions and intergenerational activities. Families meet once a month for a time of fellowship, support, and age-appropriate play and ministry.
Children Pre-k – 3rd Grade
Family Faith Formation: Between school, work, sports, and other activities, families spend far too much time apart. Valley of Peace provides opportunities on Sunday mornings for families to learn and grow together at church while also equipping families to have further faith conversations at home. We gather from 9-10 am on Sunday mornings in the Fellowship Hall (Lower Level) to learn and talk about many themes throughout the Bible. During this time, we allow for parent-child discussions using leaflets that go along with our theme or story of the day.
Children 4th – 5th Grade
Ready for a bit more conversation and expanded faith formation activities, our older elementary school students participate in a small group Bible study following worship with their peers. Students follow the Narrative Lectionary as we do in worship at Valley of Peace and have the opportunity to explore the text in their own way through art, science projects, games, and puzzles.
Additional Opportunities
Family Tables: On the 3rd Sunday of every month, we bring together young families and experienced families/couples/singles during our education hour from 9-10 am while children enjoy music, fun, and fellowship together. This is a time of learning, sharing, and praying together as we work to live out faith in our daily lives. Topics focus on family faith practices throughout the years, bible study, advocacy, stewardship, spiritual goals, childhood milestones, and other family-focused conversations and reflections.
VBS: Every summer, Valley of Peace provides an opportunity for children to gather for a week of learning based on a theme. Children rotate through music, games, Bible study, and crafts as they learn about God's love and build new friendships.
Summer Camp: Valley of Peace has a strong partnership with Camp Wapogassett in Amery, WI. Every summer children grades 2-12 have the opportunity to learn more about God through word, friends, and nature.
The Journey Continues Summer Notebook 2017
Seasonal Resource

s and Devotions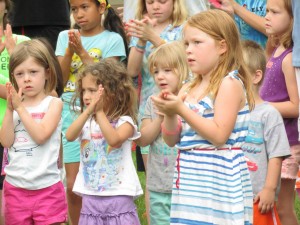 Valley of Peace believes that the majority of lasting faith formation happens in the home. That is why we provide weekly and seasonal resource guide for families to use at home with their children and youth. These guides focus on the church seasons (Advent and Lent) as well as weekly guides following the Narrative Lectionary. They include family devotions and prayers, stories, film and music suggestions, family service opportunities, and parenting articles. These guides are designed for families with children ages 3 – 12th grade.