Staff
Pastor John Hinderlie
Pastor John serves as our lead Pastor as we continue the call process. He is from Tyler and Waseca, MN and Seattle, Washington. He graduated Yale University, studied in Marburg, Germany and attended Luther Theological Seminary. He served parishes in Goppingen, Germany; Rochester, MN; and St. Louis Park, MN. Pastor John retired in 2007 (or so he thought) and with his wife, Diane (married in 1995) and joined Valley of Peace. Together they have two sons, Peder and Erik, a daughter, Kersten, and two granddaughters, Alexandra and Kallie. He can be reached at (612)501-8055 or jhinderlie@gmail.com.
Emilie Moravec, Children, Youth, and Family Ministry Director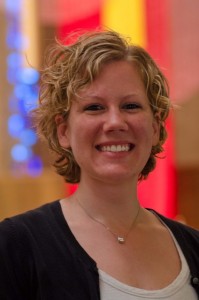 Emilie grew up in Bemidji, MN and graduated from Augsburg College in 2007 with a B.S. degree in Social Work and a minor in Youth and Family Ministry. After college, Emilie attended United Theological Seminary in New Brighton and completed a Master's degree in Theology with a concentration in Theology and the Arts. She resides in Brooklyn Park with her husband, Adrian, and they have two children: Boden (age 3) and Harlowe (born in March). emoravec@valleyofpeace.org
Vicar Wade Wacholz

Wade is a husband, father, lawyer, seminarian and follower of Jesus. He lives with his wife Shawn in Eden Prairie, works for Gislason & Hunter LLP in Golden Valley, and for the last thirty years has worshipped and served at Shepherd of the Hills Lutheran in Edina/Hopkins. His passions include the Bible, Twins baseball, Blackhawks hockey, Gophers football, good food & wine, and a little golf when it can be squeezed into a busy schedule. He is excited to begin a new phase of life by sharing in ministry and the walk of faith at Valley of Peace!
Adrian Moravec, Communications Director
Adrian first came to Valley of Peace in early 2012 as a guitar and piano playing accompanist and continue to serve in that capacity. He graduated from Augsburg College in 2008 with a double major in Music and Film and completed a Film Journalism Master's Degree in 2011 from the University of Glasgow in Scotland. His interests include movies, cooking, and reading. You might also find him working at Kitchen Window in Uptown or teaching piano lessons at the church.  amoravec@valleyofpeace.org
Mariana Duffney, Business Assistant
Mariana Duffney spent the bulk of her "professional" life as Administration Officer for the Canadian Consulate in Minneapolis (to help feed her family) while also spending forty years in the music ministries of various churches (to feed her soul). She retired from the Consulate several years ago and currently spends most of her time in administration/finance at both Valley of Peace and First Lutheran Church of Crystal. She also directs Faith First, a group of men singing southern gospel music. If you need to reach Mariana, please do so through Joan Hilden at 763-588-4611 or by email at: mndvop@gmail.com