Staff

Pastor Ashley Osborn, Senior Pastor
Pastor Ashley Osborn began her ministry at Valley of Peace on August 27, 2017. Pastor Ashley is a graduate of Augustana University in Sioux Falls and of Luther Seminary in St Paul. She previously served as Associate Pastor at Our Savior's Lutheran Church in Faribault, MN. She and her husband, Jon, live in south Minneapolis with their young daughter.
Pastor John Hinderlie
Pastor John serves as our Visitation pastor. He is from Tyler and Waseca, MN and Seattle, Washington. He graduated Yale University, studied in Marburg, Germany and attended Luther Theological Seminary. He served parishes in Goppingen, Germany; Rochester, MN; and St. Louis Park, MN. Pastor John retired in 2007 (or so he thought) and with his wife, Diane (married in 1995) and joined Valley of Peace. Together they have two sons, Peder and Erik, a daughter, Kersten, and two granddaughters, Alexandra and Kallie. He can be reached at (612)501-8055 or jhinderlie@gmail.com.
Emilie Moravec, Children, Youth, and Family Ministry Director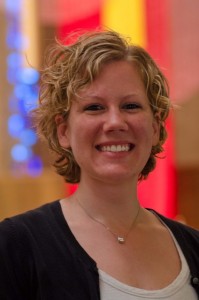 Emilie grew up in Bemidji, MN and graduated from Augsburg College in 2007 with a B.S. degree in Social Work and a minor in Youth and Family Ministry. After college, Emilie attended United Theological Seminary in New Brighton and completed a Master's degree in Theology with a concentration in Theology and the Arts. She resides in Brooklyn Park with her husband, Adrian, and they have two children: Boden (age 3) and Harlowe (born in March 2017). emoravec@valleyofpeace.org
Sally Daniels  Herron, Parish and Communications Administrator
Sally and her family first came to Valley of Peace in 1996. She has held a variety of volunteer roles at the church, including two cycles as president of the congregation; she continues as the wedding coordinator and in May 2017 became the Parish and Communications Administrator. She and her husband, John, live in the neighborhood with their little rescue Schnoodle, Frida, and welcomed a grandson in September! She can be reached in the church office Monday-Thursday at sdaniels.herron@valleyofpeace.org
Mariana Duffney, Business Assistant
Mariana Duffney spent the bulk of her "professional" life as Administration Officer for the Canadian Consulate in Minneapolis (to help feed her family) while also spending forty years in the music ministries of various churches (to feed her soul). She retired from the Consulate several years ago and currently spends most of her time in administration/finance at both Valley of Peace and First Lutheran Church of Crystal. She also directs Faith First, a group of men singing southern gospel music. If you need to reach Mariana, please do so through Joan Hilden at 763-588-4611 or by email at: mndvop@gmail.com